As an educator, my objective is to instruct and create an art program that teaches encouragement, creativity, problem solving and risk taking. I strive to reinforce the art elements and the principles of design along with integrating other subjects such as history, geography, math, and psychology.
Renee Egan teaches at Artists of Yardley as well as gives private instruction out of her home studio. Classes change depending on season. Current Classes below.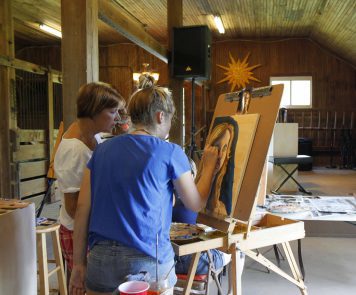 Summer workshop: Plein Air Painting at The Artist of yardley
16-Adult
Capture the light and shadows as the sun sets, the twilight of early evening in an outdoor painting course on Patterson farm(AOY) . A supply list will be sent upon receiving a class roster. Impasto style painting, drawing, composition, color mixing will be discussed and applied.
All Levels are welcome.
July 25th -August 8th Three Thursday evenings 6:30- 9:00PM
$75.00 members $90.00Non-Members at The Artist of Yardley 949 Mirror lake Rd. Yardley, Pa. tel # 215-493-1205

Private Instruction: Painting & Drawing from Observation
Students will create a variety of pieces. Some will utilize observation, on-location and others drawing directly from the model. Through these private sessions, students receive a unique personal instruction where they can really develop and hone their skills.
SIGN UP BELOW